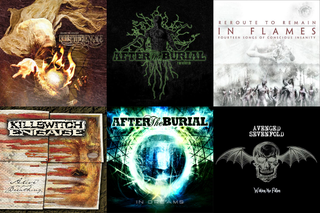 So I was looking through my "Most Played" playlist in iTunes and realized that it has changed a lot in the last year. It used to be pretty stable, with new songs not really cracking the top since I'd listened to these ones so much. But man, it's quite different now.
What are you most listened to songs? If you don't have something like iTunes to tell you exactly what you have listened to the most, what songs do you think you listen to the most?
Today's Playlist
So for today's Metal Monday playlist I present to you my top 10 most played songs, according to iTunes!
10. Go Alone by Hell or Highwater, ft. M. Shadows of Avenged Sevenfold (111 Plays)
9. Throes of Perdition by Trivium (115 Plays)
8. Reroute to Remain by In Flames (117 Plays)
7. Unholy Confessions by Avenged Sevenfold (125 Plays)
6. No End in Sight by Killswitch Engage (126 Plays)
5. Your Troubles Will Cease And Fortune Will Smile Upon You by After the Burial (126 Plays)
4. My Last Serenade by Killswitch Engage (127 Plays)
3. Cloud Connected by In Flames (129 Plays)
2. Aspiration by After the Burial (129 Plays)
1. In Due Time by Killswitch Engage (154 Plays)
---
Metal Monday is a weekly column by DisturbedShadow on TAY that discusses all things metal. Every Monday morning, we will discuss something metal related and leave you with a playlist to listen to. If it has to do with gaming you'll find it on TAY and if not you can find it over on TAYClassic.